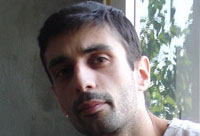 Samvel Vanoyan
You can learn much about me from this page...
The pictures which are available on this site are for sale...
You can place your orders with any of the pictures available on this site...
The miniatures are made on parchments with natural paints based on the old Armenian technology.
You can also order any of the pictures painted on canvas at any desirable dimensions.
You can also order portraits which are painted with pencil and watercolor.
You can also order any websites and flash animations...
Prices are to be agreed
For further comments and suggestions, please e-mail me: nn4@freenet.am.
Have fun!