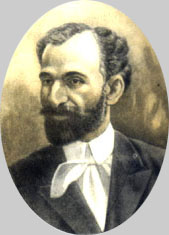 (1869-1923)
Hovannes Toumanian was born on the 19th of February 1869, in a little village in Armenia.
He received his education in Tiflis, the cultural and political center of that era. He attended the Nersisian seminary but due to the death of his father, was forced to return to Armenia to care for his family.
At the young age of nineteen, Toumanian was married and in due time fathered ten children. In 1890, Toumanian's first collection of poems were published.

One of Toumanian's famous quotes was, "I always had the most important guide - my intuition." His creations had a common theme, that of attempting to emulate harmony. His four line verses were unique patterns of the heavenly power of the
human mind.
Toumanian created many fascinating fairy tales famous among which was "Kaj - Nazar." Well known poet Avetik Issahakian said of Toumanian, "His talent and role in the Armenian poetry, is like a mountain stream which gives travelers new powers and fresh breathe." Two of his works, "Anoush" and "Almast," were converted to operas, which are still showcased today.
Toumanian died in 1923.